I was contacted this week by two printmakers via email, and I'd like to share their work with you.



Mila Radišić is a self-taught copper engraver from Croatia. Her work is imaginative, dynamic, iconic and, to my North American eyes, has a distinct European flavour. Many of her images are devleoped using a circular mark-making technique, much like pointillism. The result is rich in values yet subtle in contrasts. Mila's imagery reminds me somewhat of Mike Yazzolino's "A Collection of Thoughts and Pictures Based on the Alphabet" (a very esoteric Canadian publication that's now pretty hard to come by, and probably was when my family got it!).

Mila contacted me because she was interested in connecting with other printmakers. As she's self-taught, she'd like to learn more about her technique from others who practice it. Unfortunately, I do not use any method of intaglio printmaking, but I have forwarded some information to her in the hopes that she will be successful in connecting with someone who can help. Her online gallery is very cleverly set up with thumbnails of her works; the viewer's curiosity is immediately piqued by these intriguing windows to her incredible, detailed and creative works. Click on to discover more!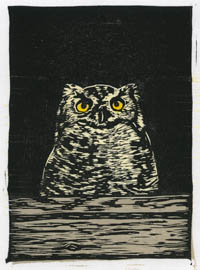 Wallace Koopmans is a painter, printmaker and photographer from Abbotsford, BC. One of Wallace's recent series is images of local historic landmarks. Wallace's use of his carving tools in mark-making is very distinctive and extremely effective at evoking a sense of place in his work. His interpretation of his subject matter is very graphic (check out "Detour") and deceptively simple; these are all monochromatic works, yet he achieves great depth and perspective using wonderfully dynamic textures and line work (see "Fraser Valley Buddhist Temple").

Two of my favourites are from his recent collection: have a look for "Lunch" and "Cricket" for a couple of very strong pieces. Wallace's work represents a consistent, distinctive style which demonstrates great skill and passion for his chosen printmaking medium (check out his photography, too - you'll see that his great sense of composition isn't just applied to printmaking).